Thirdverse Group and Drecom Sign MOU for Blockchain Game Development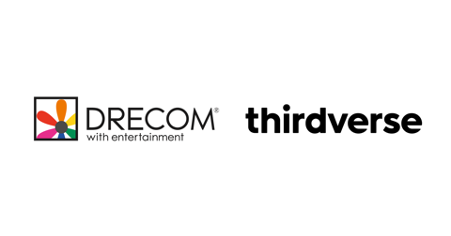 TOKYO - March 18, 2022 - Thirdverse Inc., a leading virtual reality game development, distribution and management company, and Drecom Co., Ltd. are pleased to announce a new partnership to plan, develop, and operate blockchain games.
Yuki Naito, Drecom CEO said: "Games and other forms of entertainment have always developed along with new technologies. We believe that technologies generated in Web3 will have a strong influence on the development of entertainment in the next 5 to 10 years. GameFi (Game x Blockchain x Finance) has recently been attracting attention, and we're seeing new product launches almost every day." Masaru Ohnogi, Thirdverse CBO / Blockchain Division adds: "It's essential in this competitive market to deliver high-quality products and carefully foster communities based on IPs. In this partnership, Thirdverse Group and Drecom will bring our tremendous expertise in game planning and development, community management, marketing, and understanding of the latest Web3 trends that are necessary to make this happen."
Thirdverse is dedicated to realizing a "VR x Metaverse" and has been developing VR games in Japan and the United States since 2013. In addition to its world-class VR game development capabilities, the company is partnering up with global leaders such as Animoca Brands to bring cutting-edge know-how in Web3.
Drecom, with gaming business at its core, has been expanding business by increasing profits from IP game operation and development. Drecom is also engaged in R&D of new technological fields and development of new business with the aim of creating the next core business.
Thirdverse Group and Drecom have agreed to collaborate on the development and operation of IP blockchain by utilizing the management resources of both companies, and plan to announce its product roadmap in the coming months.
About Drecom Co., Ltd.
Founded in 2001, Drecom develops and operates several smartphone games, mainly with popular IP titles, based out of Tokyo, Japan. Starting from blog services as the main business, Drecom has expanded its business to various products on the internet. Drecom aims to become a comprehensive entertainment company that provides a variety of digital contents on its IP to the world.
For more information visit: https://drecom.co.jp/
About Thirdverse, Inc.
Founded in 2020, Thirdverse Inc. is a virtual reality game development, distribution and management company paving the path to the metaverse, and based out of Tokyo, Japan and San Francisco. In 2019, the studio released the world's first VR multiplayer sword-fighting action game, SWORDS of GARGANTUA. Thirdverse is also currently promoting the "Thirdverse Plan", aiming to create a "Third Space" in the virtual metaverse.
Thirdverse is best known for its flagship title SWORDS of GARGANTUA, a top-rated VR game in the Oculus and Steam stores, which has continued to grow its fanbase as well as its breadth through the release of feature expansions, such as with the adventure modes, Tesseract Abyss 1 and 2. Additionally, the company currently has several unannounced VR and blockchain projects in development.
For more information visit www.thirdverse.io.
(C) Thirdverse, Co., Ltd.