Drecom Co.,Ltd and Turingum K.K. signs joint business contract for developing and operating a new blockchain "Wizardry" IP title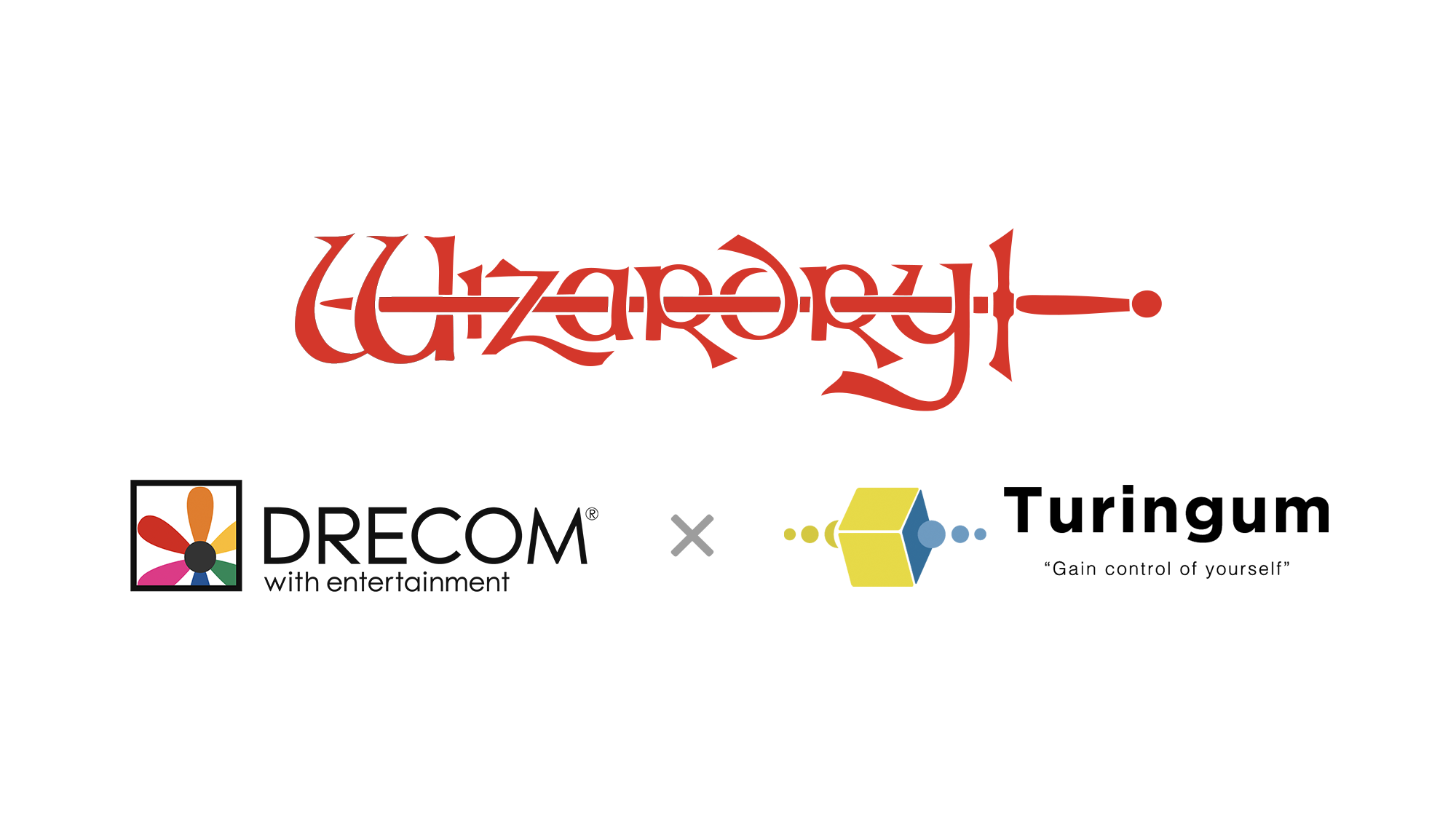 Drecom Co., Ltd. (Headquarters: Shinagawa-ku, Tokyo; President and CEO: Yuki Naito) and Turingum K.K.. (Headquarters: Minato-ku, Tokyo; President and CEO: Shuhei Mise) are  pleased to announce that the two companies have signed a joint business contract and the license agreement in developing and running a new blockchain game using the "Wizardry" IP. 
Background and Objective of the Joint Business Contract
Recently, Web3, blockchain and NFT have received attention for utilization in entertainment such as games. The industry is looking for new and challenging ways to incorporate this new technology into creating new user experience and value.
This joint business is aimed to combine Drecom's IP game designing, developing and operating experience with Turingum's vast experience with the blockchain technology in order to create and run a new blockchain game.
Drecom and Turingum will be using the "Wizardry" IP, known as being one of the origin of computer gaming in its new game title. The title will appeal to the influential Wizardry community fanbase that exists throughout the world, while fully utilizing the Web3 technologies such as blockchain and NFT.
With blockchain technology, players will be able to trade with each other on the marketplace, adding innovation and depth in the gaming experience. The joint business project is aimed to further explore the potential of using these marketplaces and game tokens to provide a sustainable gaming economy.
Cancellation of Collaboration with Thirdverse Group (Current: Mint Town Co.,Ltd)
In March 2022, Drecom and Thirdverse Group (Current: Mint Town Co.,Ltd) signed a basic agreement contract in order to develop a blockchain game using an IP. However, after considerations and changes with the market, the collaboration has been canceled despite making multiple updates with the collaboration scheme, game model and target marketing strategy. 
Drecom's stance on Web3 businesses
As gaming being the one of the main business divisions of Drecom, the company is currently expanding its business with a focus on increasing the revenue of existing IP titles, as well as developing new IP titles. Also as part of the effort of building the next generation business, the company is also dedicated to experimenting with new technologies and challenging new innovative services. The company's blockchain technology research has been conducted since 2017, and from March 2022 it has evolved into a new Web3 business division.
During its process, the company has released the mobile title "GGGGG" on March 2023 that utilized NFT skin system within the game.
In this new joint business project, the new blockchain game is aimed to also incorporate FT along with NFT. Drecom sees that secondary distribution via the blockchain game will provide users a new gaming experience where new gameplay styles may emerge.
Turingum's stance on Web3 business
Turingum is specialized in consulting business in the finance and blockchain technology. It has many experiences with tokenomics design and operation such as blockchain games and Web3 projects such as GameFi. With the increasing demand of Web3 projects, Turingum has expanded its tokenomic design consulting with various companies that aim to issue tokens of their own.
With this project, Turingum aims to create a new blockchain gaming experience by using their knowledge with tokenomics of the games.
About "Wizardry"
"Wizardry" is a computer RPG title that was released in 1981 in the U.S.A.. It is known to be one of the original RPG titles that influenced many other titles with its iconic party system, dungeon exploration, monster combat and character growth. Various series titles were released and even after over 40 years, many devoted fans spread across the world. In 2020, Drecom acquired the license of Wizardry 6, 7 and 8 and Wizardry Gold for domestic and international use.
This new blockchain project is a different title from the previously announced mobile title "Wizardry Variants Daphne"
■Official Twitter:https://twitter.com/wizardry_series
About Drecom Co., Ltd.
Trade Name: Drecom Co., Ltd.
Address: ThinkPark Tower 19F 2-1-1 Osaki Shinagawa-ku, Tokyo
CEO: Yuki Naito
Founded: November 13, 2001
Corporate Website: https://drecom.co.jp/
About Turingum K.K.
Trade Name:Turingum K.K. 
Address: 6-7-2 Minami Aoyama Minato-ku, Tokyo
CEO: Shuhei Mise
Founded: June 7, 2019
Corporate Website:https://turingum.com/