Fanflu, a fan community & UGC promotion service for YouTube has official launched / Case study: NEKO GOLF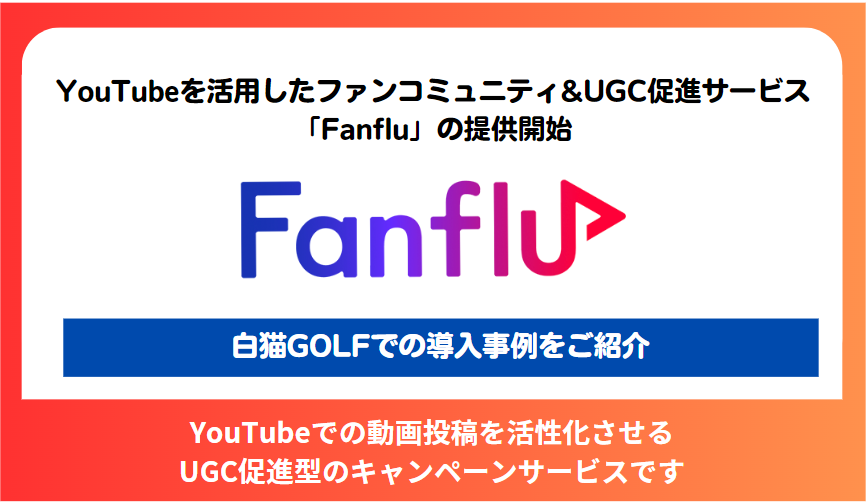 Drecom Co., Ltd. (Headquarters: Shinagawa-ku, Tokyo; President and CEO: Yuki Naito) and MOTTO inc. (Headquarters: Nerima-ku, Tokyo; President: Motoi Sato) have launched Fanflu, a YouTube-based fan community and UGC promotion service.
What is Fanflu?
Fanflu is a YouTube version of Rooot (https://www.Rooot.biz/), a fan service for Twitter that has been used in over 200 services. By holding Post & Watch Campaigns for YouTube videos, we can promote the creation of fan communities by matching YouTube video posters and viewers. Attracting a large number of viewers will motivate video posters to continue and making it easier for viewers to find quality posters will increase their chances of interacting with the service. Users can also use the points earned in the campaign to redeem prizes, goods, etc., and enter a drawing at a special site set up by Fanflu.
The background of Fanflu
The number of YouTube users has been growing year by year, and marketing initiatives using YouTube are now being actively used in a variety of industries but the distribution of officially produced videos and tie-up videos using influencers are the mainstream. However, the cost of production and tie-ups has been increasing, and while the effects are temporary, recently, the importance of videos with user generated content (UGC), which users post on their own, has been increasing.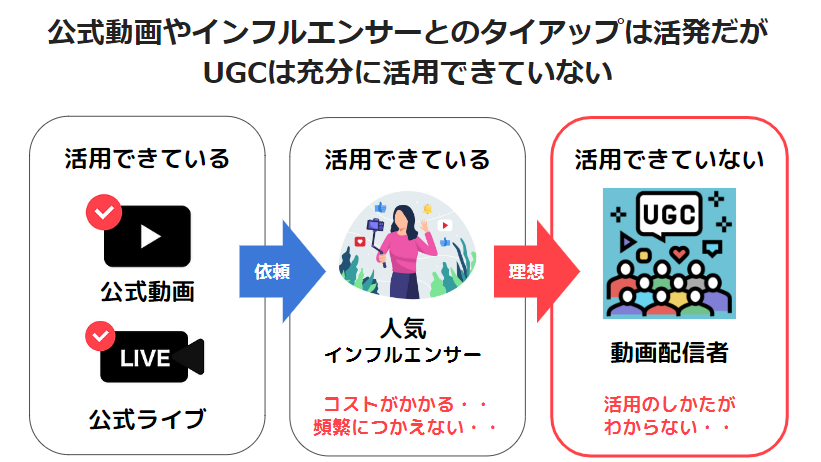 Benefits of Using Fanflu
The benefits of using Fanflu are as follows:
Video Post & Watch Campaigns can be held without the need for any system development.
The service will also prepare a dedicated landing page for the campaign.
High view counts can be brought into high-quality videos.
Increased viewer and subscriber numbers energizes video posters.
Matching posters and viewers can lead to the creation of a fan community.
Video submissions are stimulated and opportunities for fans to continue interacting with the service are created.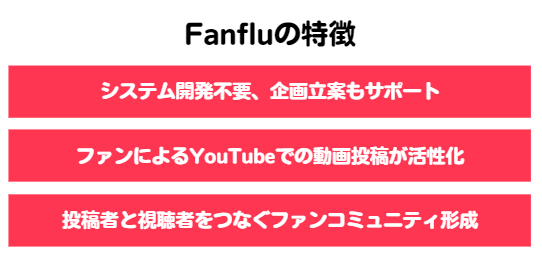 Case Study
Game App: NEKO GOLF (by COLOPL, Inc.)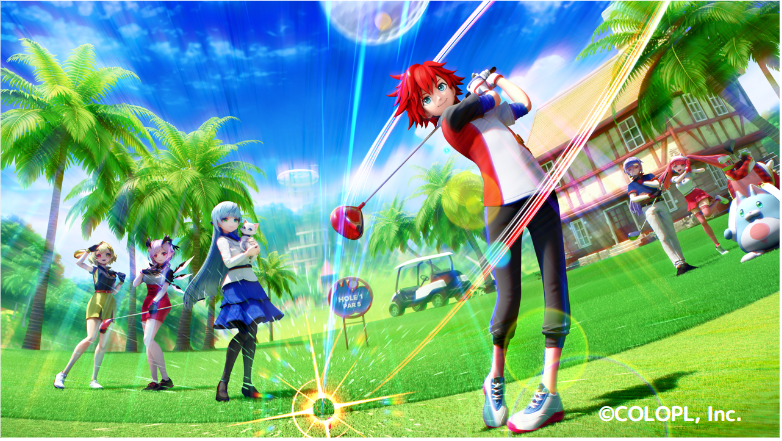 NEKO GOLF is a game app from COLOPL, Inc. It is a title in the Shironeko series featuring golf. In addition to the appearance of popular characters from the series, players can enjoy realistic golf with other players from around the world at any time, and the game's simple yet exhilarating controls that allow for spectacular matches with exhilarating shots is one of its appealing aspects. COLOPL, Inc. held a video campaign to coincide with the release of the NEKO GOLF app, and from early in the campaign, were successful in attracting a large number of video posters and viewers to fan events on YouTube.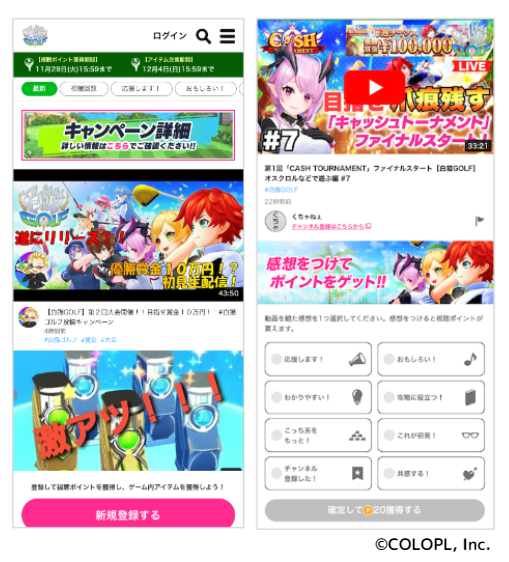 NEKO GOLF's Post & Watch Campaign System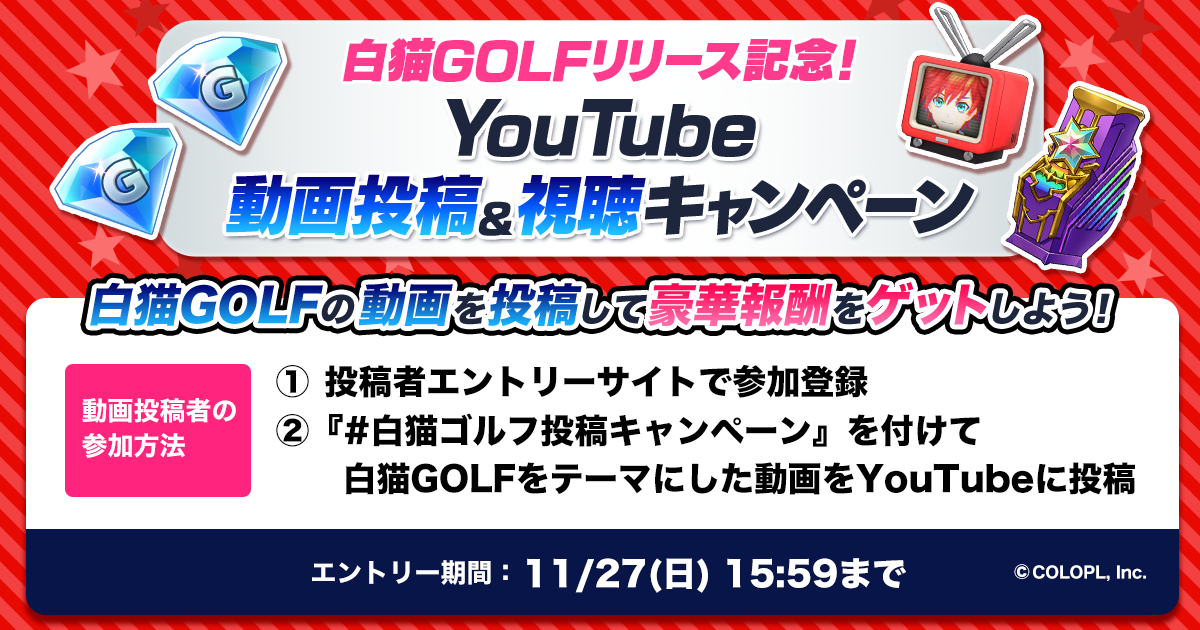 Coinciding with the release of the app, we prepared special offers for both posters and viewers. The event was a great success with many participants and video submissions. In the campaign, video contributors could receive rewards and in-game items by posting videos with specified hashtags. Video viewers can also enter their impressions after viewing to exchange points earned for in-game items.
*The diagram below shows campaign participation flow for viewers.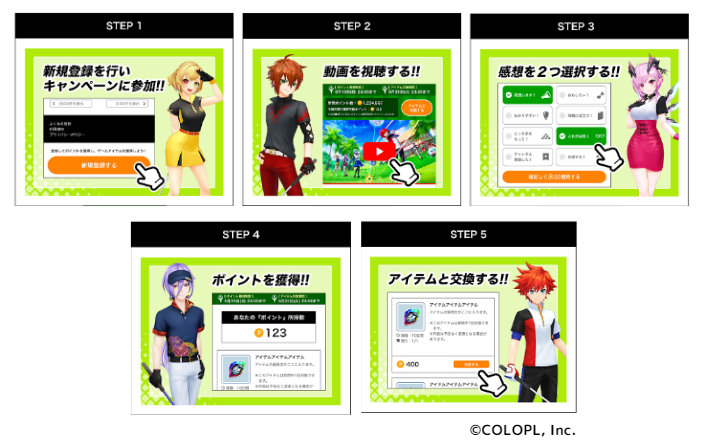 The campaign could also create opportunities for posters and viewers to connect. As viewership increases, posters can continue posting videos after the campaign ends without losing momentum.
There were even videos posted by campaign participants showing their appreciation!
With the overwhelming response of the first campaign, a second campaign was conducted approximately two weeks later.
Benefits of Using Fanflu
Fanflu has already been used by four services, beginning with game apps.
Below are some examples of the results we have seen from clients who have taken advantage of the system.
[Main Results]
Invigoration of video submissions throughout the campaign
Video viewership increased up to 10 times normal
Increased subscriber numbers to video contributors giving incentive to post videos even after the campaign is over.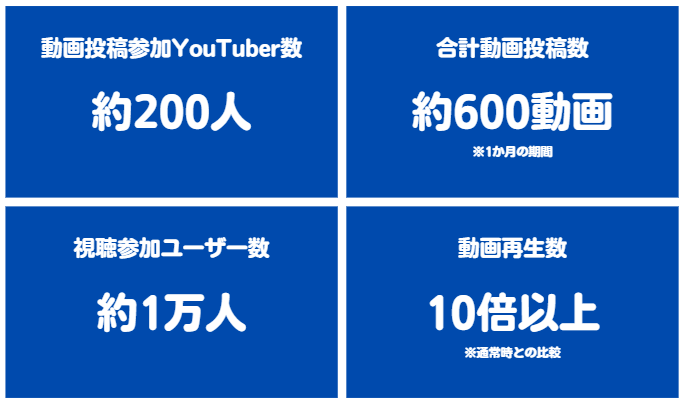 About using Fanflu
We provide services for a wide range of industries and business categories that want to encourage video contributions by fans. After discussing the state of the service and its goals, as well as getting a feel for the budget, our staff will propose a plan for running the campaign.
As the number of units we can offer is limited, if you are considering using the service, please reach out as soon as possible.
Contact Information
Please contact us for more detailed information on features, utilization, costs, or documentation.
Contact Information
Drecom Co., Ltd., Fanflu Manager / Email: fanflu-support@ml.drecom.co.jp
Fanflu Service Page
https://www.fanflu.biz/
[Service Operation/Development]
Drecom Co., Ltd. https://drecom.co.jp/
We are a company that creates on the internet, bringing excitement to the world through the power of entertainment, upholding our mission of "with entertainment - surpassing one's expectations." Along with providing planning, development, and operation of smartphone games, we are exploring new areas of business such as web3 and publishing. We are also developing fan marketing services that leverage the user acquisition and service community management know-how from these businesses.
MOTTO inc. https://motto.id/
With the theme of "empowering people to do their best," we have built our business to solve business-related issues and contribute to growth by making marketing easier.