Fanflu, a fan community & UGC promotion service for YouTube now supports video shorts! Promotional case study with 1566 video contributors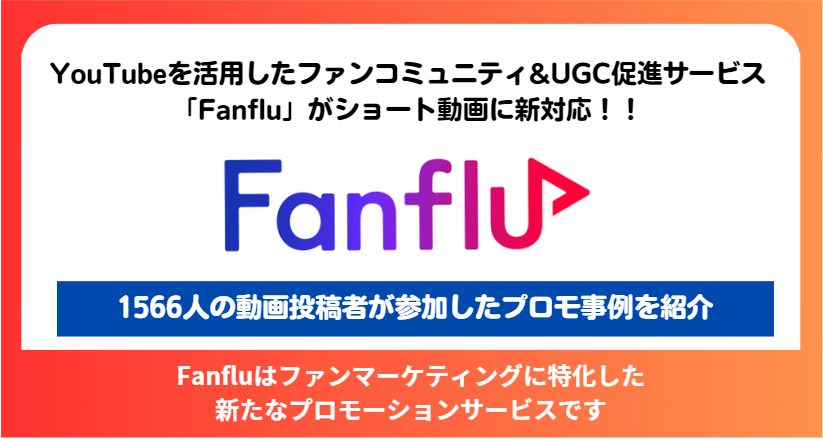 Drecom Co., Ltd. (Headquarters: Shinagawa-ku, Tokyo; President and CEO: Yuki Naito) and MOTTO inc. (Headquarters: Nerima-ku, Tokyo; President: Motoi Sato) have now added support for video shorts to Fanflu, a fan community & UGC support service for YouTube.
Resolves the issue of not being able to galvanize UGC on YouTube
With the increase in YouTube users, many industries are taking advantage of YouTube marketing. Officially-produced videos and tie-up videos with influencers are the norm. However, this method not only increases production costs, but also has the problem that the effectiveness is short-lived. Against this backdrop, the value of user-generated content (UGC), posted voluntarily by users, is attracting attention.
As a response to these market challenges, we have launched Fanflu.
Growing market for YouTube shorts
According to a March 2023 MMD LABO survey of 7,000 men and women ages 18-69 (ref: https://mmdlabo.jp/investigation/detail_2195.html), usage rate for YouTube shorts is 34.7%. This indicates that one in three people use the service. In the same survey, when asked if they had ever purchased a product after viewing a short, 32.2% said they had.
Short have received a lot of attention for UGC promotions with the following characteristics.
Images can convey intuitively and express content that is difficult to express in words alone
Content is easily remembered by viewers
A wealth of information can be conveyed in a short period of time
Video shorts are easy to produce and well-suited to generating UGC. As the survey results show, it is already recognized as an effective promotional tool, as it is easy to reach viewers and lead to purchases.
Characteristics of Fanflu
Fanflu has the following characteristics that allow it to galvanize UGC on YouTube.
Can attract video contributors
Can nurture high-quality video creators
Can attract large fan followings
Connect video contributors and viewers to form fan communities
Drecom provides the following support for campaigns taking full advantage of these characteristics.
Campaign content planning and support consulting
Preparation of dedicated campaign website (including design and production)
Support for video shorts has been added to take advantage of Fanflu's characteristics
UGC Usage Case Study with Video Shorts
・Avatar dress-up app: Pokekoro (cocone corporation)
Pokekoro is an avatar dress-up app enjoyed by a wide range of women in their 20s to 50s, especially teenage schoolgirls. Users can coordinate fashion and interior design from a total of more than 70,000 items and express themselves according to their sensibilities.
・Goals of using Fanflu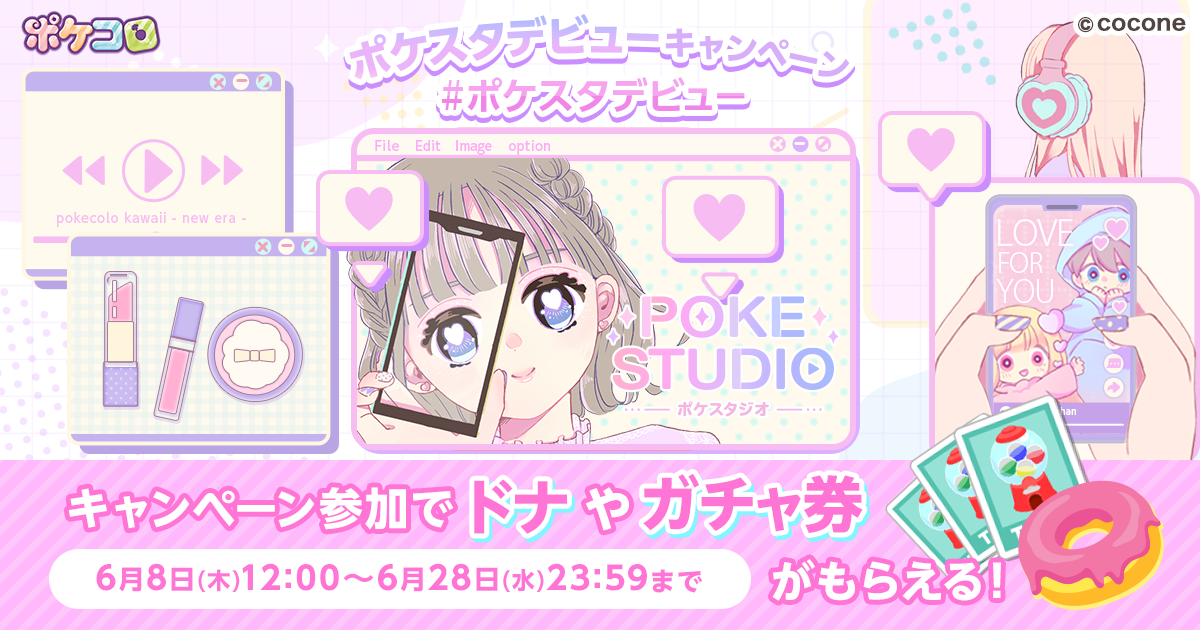 With the introduction of a new video editing feature called "POKE STUDIO" to the app, we aimed to increase the number of video contributors on YouTube. However, the goal was not only to increase the number of video contributors. By using Fanflu, we also expected the following benefits.
Viewer responses leading to increased contributor motivation
Connecting contributors and viewers and building bonds between fans
Creation of a fan community that lasts long after the campaign ends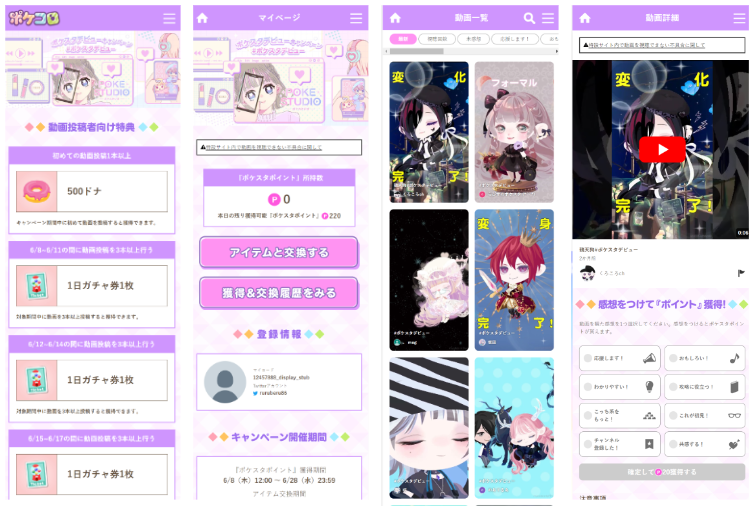 ・How Fanflu affected the numbers
[Campaign Overview and Results]
We confirmed 1,566 channels registered for the video submission campaign, which ran from June 1 at 3pm through July 1 at 11:59pm. Among these channels, 1158 channels were newly established for the campaign.
[Galvanization of Video Posts]
There was an average of 10.3 video submissions from all 1566 channels participating in the campaign. The app's video editing functionality also contributed to the ease with which users were able to make their contributions.
[Response from Viewers]
The number of registered viewers in the campaign reached approximately 13,000. With an average of 212 views per video, many video contributors enjoyed the positive response of viewers.
[Fan Community Formation]
The newly registered channels recorded an average of 22.2 channel subscribers. We can also confirm the exchange of comments within YouTube. Even though there is no incentive for fans to subscribe to each other's channels, it was confirmed that many fans are connecting spontaneously.
About using Fanflu
With Fanflu, you can launch a video campaign to promote UGC in as little as one month.
No system development or design support required
Simply determine the images and parameters needed to run the campaign, and the campaign site is ready to go.
Promotion planning assistance
We have experience supporting more than 200 fan marketing campaigns, and we also provide planning support to maximize the effectiveness of promotions.
Support for other social media
In addition to YouTube, we also provide support for fan marketing promotions on X (formerly Twitter) and TikTok.
We provide services for a wide range of industries and business categories that want to encourage video contributions by fans. After discussing the state of the service and its goals, as well as getting a feel for the budget, our staff will propose a plan for running the campaign.
Contact Information
Please contact us for more detailed information on features, utilization, costs, or documentation.
・Contact Information
Drecom Co., Ltd., Fanflu Manager / Email: fanflu-support@ml.drecom.co.jp
・Fanflu Service Page
https://www.fanflu.biz/
[Service Operation/Development]
・Drecom Co., Ltd. https://drecom.co.jp/
We are a company that creates on the internet, bringing excitement to the world through the power of entertainment, upholding our mission of "with entertainment - surpassing one's expectations." Along with providing planning, development, and operation of smartphone games, we are exploring new areas of business such as web3 and publishing. We are also developing fan marketing services that leverage the user acquisition and service community management know-how from these businesses.
・MOTTO inc. https://motto.id/
With the theme of "empowering people to do their best," we have built our business to solve business-related issues and contribute to growth by making marketing easier.